Here is a heavyweight fight worth watching.
In the effort to legalize casinos in Florida, Las Vegas billionaire Sheldon Adelson and other casino operators have hired more than 100 lobbyists to influence lawmakers in Tallahassee. On the other side of the fight is the Walt Disney Co., which opposes casinos in the Sunshine State.
The Boston Globe reports the army of lobbyists and campaign contributions are pouring into Florida. The big spending is a sign of the high stakes in Florida. It also underscores how the gambling industry drives and influences public policy when it comes to casinos. It is not as if there is a grassroots push by residents begging their elected officials for more places to gamble.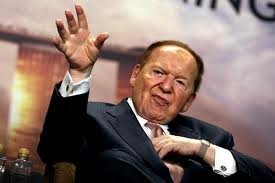 Lobbyists for casino operators say an expansion will bring jobs and tourists and boost the economy, according to The Globe. Disney believes gambling would hurt the state and undermine the family-friendly theme it has tried to build over the years.
''The massive expansion of gambling that would come from legalizing mega-casinos would be a bad bet for Florida's taxpayers, tourism brand and existing businesses,'' Andrea Finger, a Disney spokeswoman, told The Globe.
Here is my recent op-ed in The Tampa Bay Times on the casino issue in Florida.