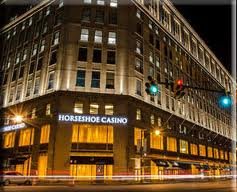 In 2009, Ohio residents were told the four proposed casinos would generate $1.9 billion in annual tax revenue for the state. The figure helped convince slightly more than half of the state's residents to approve a referendum legalizing casinos.
But after the first full year of operation for all four casinos, the actual revenue was $839 million, according to this report. Turns out the state's projection was off by $1 billion. To quote Texas Gov. Rick Perry: "Oops."
Of course, the $839 million figure does not take into account any of the social and economic costs that also come with casinos. Nor, does the figure consider the drop in spending at area businesses. After all, not only are the revenue figures well below the projection, the Ohio casinos are not generating much new spending. That's because casinos divert spending that would have gone to buy cars, clothes, food and other goods and services in the state.
But since the casinos are taxed at a higher rate, the state pockets more tax revenue. Usually casinos experience solid growth at first, but then revenue figures level off and begin to drop. Ohio's weak start does not bode well since the numbers came in low and are likely to keep dropping in future years. Ohio's revenue problem underscores a broader industry concern: so many other states have legalized casinos recently the market is getting saturated. (Shocked – just shocked – that gamblers are not flocking to the casino in a former department store in downtown Cleveland.)
The casino shortfall in Ohio should serve as a cautionary tale for other states, like Florida and New Hampshire, considering whether to legalize casinos. The casino hype rarely lives up to the reality.